What we feed our puppies!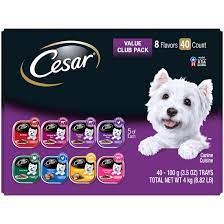 Little Cesar's
Little Cesar's is something we keep on hand at all times! We highly suggest new families get this to have on hand for when they bring their puppy home (especially the smaller breed puppies). Sometimes with change in scenery and the stress, puppies will want to not eat. Giving them a little of this helps them to get the protien that they need and no matter the flavor, they can't resist it! It is also really easy to get and often can be found at Dollar General or the corner convenience store!
Dehydration Prevention/Treatment
First and Foremost ALWAYS call your Veterinarian FIRST!
 Dogs experiencing dehydration develop imbalances in their electrolytes such as sodium, potassium, and chloride. Vomiting and diarrhea, for example, often cause a loss of electrolytes, while dogs with heat stroke or heat exhaustion often have higher than normal levels of these electrolytes in which Pedialyte could actually worsen their symptoms. If your dog can drink fluids and is not vomiting, plain water is recommended and is a much safer choice over Pedialyte.
Recipe for electrolyte fluid replacement for dogs: 
1- Mix 4 cups of water + 1 tablespoon dextrose or honey + 1 teaspoon salt. 
2-Bring the water to a low boil and add the dextrose/honey and salt. Stir until it dissolves. Remove from heat. Allow the solution to cool to room temperature before giving it to your pet. 
3-Offer small amounts of the solution, 1 teaspoon - 1 tablespoon depending on the size of your dog, every 20-30 minutes.
**information sourced from ( https://firstvet.com/us/articles/can-dogs-drink-pedialyte )
Revival Animal Health is a great, safe place to get products for your pets!